Waiting on Wednesday is a meme hosted by Jill at
Breaking the Spine
. It's a weekly look at upcoming releases that we're excited about!

If you can't tell I seem to have this extremely excited energy for The Tenner's books. They all look and sound so amazing and the authors are all so awesome (at least the one's I've talked to on Twitter have been :P), I just can't help it! So this is another Tenner book that has an awesome cover and a story that sounds even better!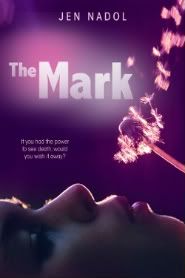 The Mark


by Jen Nadol
Release Date: January 19, 2010

From Jen's website:
Sixteen-year old Cassie Renfield has seen the mark since forever: a glow around certain people as if a candle were held behind their back.

The one time she pointed it out taught her not to do it again, so Cassie has kept quiet, considering its rare appearances odd, but insignificant. Until the day she watches a man die. Mining her memories, Cassie realizes she can see a person's imminent death. Not how or where, only when: today.

Cassie searches her past, her philosophy lessons, even her new boyfriend for answers, always careful to hide her secret. How does the mark work? Why her?

Most importantly, if you know today is someone's last, should you tell?