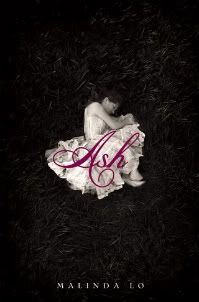 Ash

by Malinda Lo
Release
: September 1, 2009

Category
: YA Fantasy

Overall
:
There's something about fairy tales that always feel magical. No matter the story, no matter the characters, there is something about them that just makes you feel the magic inside them. Ash makes you feel every bit of that magic, and more.
Just about everyone, everyone female at least, over the age of 13 or so has heard and/or seen the story of Cinderella. Whether it is Disney's version or the classic fairy tale or the Brothers Grimm version or even one of the other hundreds of versions that have been founded over the years, we all know it. Ash is a version that I'm sure you've never heard of before, but that you should.
After losing her mother, Ash's father takes a wife, Lady Isobel. Soon after meeting Lady Isobel, her and her two daughters move into the house with Ash and her father and things drastically change. In line with the fairy tale, Ash's father becomes gravely ill and passes shortly after. Which not only leaves Ash heartbroken, but also leaves her without either of her parents, and stuck with a "family" that doesn't even like to look at her.
This is the beginning that we all know about Cinderella, and while Ash has many aspects that are the same as the original tale, they are not the same in the slightest. Ash doesn't get the typical fairy godmother; she gets something else all together, but something even more powerful than anything in the candy coated version that is fed to us as children.

Ash gets a fairy, Sidhean, who is even more lethal and dangerous than anything her stepmother or stepsisters could do/say to Ash. But that's masked in an extent by the beauty and the friendship that lies between Ash and Sidhean. And I mean that to an extent far more than the typical connection between two characters, their relationship is more developed and deeper than most would have thought possible in a novel that doesn't even break 300 pages.
But one day Ash's life, and heart, changes forever. She meets Kaisa, the King's Huntress, and there is something between them that's different from the second they meet. Ash begins to stop chasing fairies and starts to live in the world without fairies and the fairy tales, and learns how to hunt and to ride and to track animals. But in this change of life, there is a price for keeping it and for continuing to let it grow.
Through her relationship with Kaisa, Ash finds what it means to grow and what it means to let her heart guide her and in that realization, she also finds a new capacity to live. Ash prefers the company to the Huntress than the company of the Prince, and that makes this story even more powerful. Malinda Lo has created a world that is magical and finds it's own footing in a world were fairy tales are viewed as being for children and has given the older crowd a fairy tale of their own.

This is some of the most beautiful, lyrical writing I've seen in a long time and that is so refreshing. The imagery just blows me away and it's like you're standing right there with Ash through everything, whether it be pain, joy, adventure, or terror. It would kill be to see this story get cast aside and labeled a "lesbian retelling of Cinderella" because it's so much more than that. It's a beautiful story that anyone could relate to and that everyone could take something away from.
I found myself hoping for a sequel in a story that doesn't need one, just because I wanted to spend more time with the characters and spend more time in this world that Malinda has created. It's beautiful, it's magical, and it's a story that until now, I didn't know could even exist, but it does, and it needs to be heard. Not to mention, look at the cover. It is so beautiful! This is easily one of my favorite stories this year and I hope that if it's given the chance, it can become everyone else's.
Plot:
Writing:
Characters:
Ending:
Cover:
---------------------------------------------------------------

I received this book for review for Teens Read Too