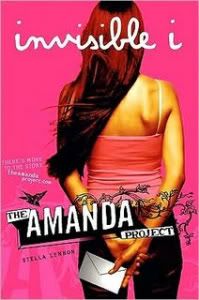 The Amanda Project: Invisible i

by Stella Lennon & Melissa Kantor
Release: September 22, 2009


Category:

YA-Mystery

Overall:
Amanda Valentino is not your typical high school student. She's mysterious and eccentric, and on top of her "I don't give a damn what you think" attitude, she's also the new girl at Endeavor High School. And as anyone who's ever been a freshman at a new high school or a "new kid" in any grade knows it's never easy. Although Amanda makes it seem not only easy, but also fun if you can imagine that.
Our narrator, Callie, is part of the "I girls" which consist of your typical, yet true to life "mean girls," but Callie isn't as much like her "friends" as they think she is. Callie is compassionate and real, she doesn't have the perfect life and she's not the happy-go-lucky girl that her schoolmates think she is. Really, the only friend she has is Amanda, her mother disappeared, and her father has decided to drink his way through their wine cellar because he believes his wife has left him.
Everything continues to work like clockwork until one morning Callie is summoned to the ever annoying and rude Vice Principal, Mr. Thornhill, and is told that she and the two other people that have been summoned to his office are in trouble for something that Amanda has done (I love the car! Just saying!) and unless they tell him where she is, they will be punished. As Callie looks at two people she's not friends with and is convinced that neither is Amanda, she begins to wonder more and more, "Where is Amanda?"
The other two people involved are Hal and Nia. Neither are in Callie's circle of friends, and neither are people she particularly wants in her circle, but there's something about the connection to Amanda that they share that just might bring them together. Despite the petty differences and the typical high school girl style remarks and looks Callie and Nia give one another, it's fairly easy to see where this is leading. They will be friends, even if it's just to find out what has happened to Amanda.
I would have preferred to know more about Amanda than her penchant for wigs, wild attire, and a few minor details, but I still found her to be my favorite character. I don't think characters were mentioned in this story by mistake, I think each character has their role or at least will in one of the seven sequels planned for The Amanda Project. I also think Mr. Thornhill plays a bigger role in Callie's life than she realizes, but in all my years of soap operas and living in fictional worlds where anything is possible, I think I know where he'll play in (and I think older teens and adults may realize it too).
Overall, I found it to be a good start to a teen mystery. It's a book that's not all about sex, drugs, or violence and while I'm definitely no prude, I find that totally refreshing. Invisible i is a fun, fairly quick read. It's totally cute and has some really fun art throughout the book (although I have the ARC and it's missing a bunch of it, there was still some that was great) [I have now seen the finished copy, and it's got some totally awesome artwork now, like seriously]. I wish there had been more answers by the end; it did leave me curious about where this series is going and I will be back in July 2010 to find out!
Plus, there's a pretty cool interactive website attached to The Amanda Project, in which you can share your opinions, theories, and artwork about what happened to Amanda. There's also a shop to buy some cool stuff inspired by Amanda and some The Amanda Project gear (I love the cute little buttons). If you're looking for a cute, light mystery then it's something you should check it out. Middle grade girls would totally love it, and fans of Mean Girls (Lindsay Lohan/Rachel McAdams movie that almost all of us know and most love) would probably enjoy it too!
Plot:

Writing:

Characters:

Ending:

Cover:
---------------------------------------------------------------

I received this book for review by Book Divas.