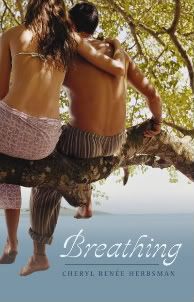 Breathing

by Cheryl Renee Herbsman


Release

: April 16, 2009


Category

: YA-General


Overall

:
Breathing is a story that can make you smile and break your heart all in the same moment. It's a story of young love, of finding yourself, of learning how to breathe on your own. It's a story that reminds you (or in some cases, shows you)what it's like that first time you fall in love, that first time that someone steals your heart and steals your breath away.
Savannah isn't you totally typical teenage girl. She splits her time between reading trashy romance novels in the summer, looking out for her little brother, working at the library, and hanging out at the beach. And this is a fine existence for her, at least until she meets Jackson.
Savannah had this adorably hilarious sense of humor about things and that made is really easy to relate to her and to be sympathetic to her. Despite that sympathy, I found her to be a bit melodramatic and immature at times, which got to be a bit much on my nerves. She was so consumed with Jackson and after a short time, it seemed like she didn't know anything about her life before Jackson and couldn't see anything in her future without Jackson.
Jackson was the perfect "southern gentleman" and that was something refreshing to see from a guy barely eighteen. He held Savannah together, he held her whole world together and at first it was sweet and thoughtful, but after a while it seemed like he was just trying to keep Savannah happy. I could never quite figure him out totally, and I never figured out what drew him to Savannah.
I almost wish the story had been from Jackson's perspective, just so I could figure out what kept him so drawn to Savannah. He was far more mature than she was at any given point in the story. There was something missing from that part of the love story. She was loving and zealous, especially when it came to something she wanted or something she cared about; but what about that made him so attracted to her? It kind of felt like I was missing a piece of the puzzle, maybe not missing it completely, but missing a part of it.
The writing was pretty great, although at first definitely took some getting used to. It was different seeing an entire novel written out in a southern accent, but it fit the atmosphere of the story. I absolutely love the fact that this was a story of lasting love between teenagers and how their love was accepted by the adults in their lives, instead of the typical "you're a teenager, you don't know what love is" reaction that most parents have.
This was a fun story to read, with a unique writing style and emotions that run throughout the entire tale. It was the story of first love, complicated relationships with family, friends, and lovers. It was imperfect and that in and of itself made this a story worth checking out. It also shows that sometimes all you need is someone in your life to give you a little push into being able to breathe on your own.






Plot

:



Writing

:



Characters

:



Ending

:



Cover

:
---------------------------------------------------------------
I received this book as a part of
1 ARC Tours