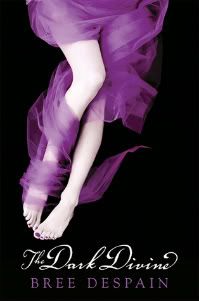 The Dark Divine by Bree Despain

Release Date: December 22, 2009

Publisher: Egmont USA

Age Group: Young Adult

Three years ago Grace Divine saw her brother, Jude, standing on their front porch covered in blood. Three years ago, Daniel disappeared. Three years later, Grace still doesn't know what happened or why Daniel left.

Now Daniel is back and those feelings that were buried just under the surface have come rushing back for Grace. Although, not everyone is happy to see Daniel return, namely Jude, who has yet to forgive Daniel for whatever it was that happened three years ago. Now Grace must decide between being loyal to herself, or being loyal to her brother, and at the consequences that both choices hold.

Lying within all the threats and warnings surrounding Daniel, and Grace being involved with him, is still a secret that she needs an answer to. But the closer she gets to the truth, the more Grace starts to miss the innocence her life held before Daniel came back and before she found out a truth that affects her and everyone she holds dear. Can she save the ones she loves without losing herself, and her soul, in the process?

This is one of those stories that is almost impossible not to fall into. Once I started, I couldn't put it down, not even for a minute. Daniel starts as your typical (ish) bad boy (I love when he's first introduced into the story!), and continues to push and pull you into this "is he or isn't he?" type of wonder throughout most of the story.

Grace isn't this typical "dumb girl falls for bad boy" character either, she's not as simple as we've come to know lately and but she's not so complex that she's unrelatable. I actually enjoyed Grace, she's very real. She gets flustered and annoyed as anyone else would, she has conflict, and she doesn't just make her decisions and say to hell with everyone and everything else. Of course she has her impulse, "don't think, just do" moments, but everyone has those, but she takes the time to think about how her choices are going to affect the people around her.

And like most of your bad boy types, Daniel is funny. He has these lines that just literally made me laugh (and get funny looks from the people/animals in the room), like this little passage between Daniel and Grace:

Daniel looked up at the sky and scratched behind his ear. "You really are one of a kind. I mean, it's not every day my girlfriend offers to kill me."
"Girlfriend?"
That wry grin slid across his face. "That's the part you question? Man, I should leave town before I really screw you up."

How can you not find that amusing? Seriously. There are so many other moments like that in The Dark Divine that will make you laugh, and even more that will make you simply think. One of Grace's biggest struggles comes from her religious background and beliefs (and being the daughter of the local pastor doesn't really help her cause much), and that's something else that makes her as a character easy to relate to.

There was something so right, so beautiful about this story, these characters, and their moments. Moments that at times I felt like an intruder into something that wasn't meant for me, like I shouldn't be seeing them or listening, but I was so involved in their story that I couldn't help it. There was this perfect balance of mystery, romance, thrill, and a twist that made my jaw drop. If there's one book you must pick up, The Dark Divine is it.

It has caused me to add another slot on many of my lists, including (but not limited to): "Fictional Characters I Wish Were Real", "Books I Will Reread", "Favorite Books EVER" and of course the "Must Recommend to Everyone" list. There's definitely something for everyone in this book. An amazing debut from an author I look forward to seeing more from, and revisiting this story!


---------------------------------------------------------------