This is a weekly meme, hosted here, that was inspired by Kristi over at
The Story Siren
and Jill over at
Breaking the Spine
, with help from Laina over at
Laina Has Too Much Spare Time
.
----------------------------------------------------------------------------


*All summaries are from Amazon, unless noted otherwise*
Release: Out Now!

Most sixteen-year-olds have friends. Aden Stone has four human souls living inside him:

One can time-travel.

One can raise the dead.

One can tell the future.

And one can possess another human.

With no other family and a life spent in and out of institutions, Aden and the souls have become friends. But now they're causing him all kinds of trouble. Like, he'll blink and suddenly he's a younger Aden, reliving the past. One wrong move, and he'll change the future. Or he'll walk past a total stranger and know how and when she's going to die.

He's so over it. All he wants is peace.

And then he meets a girl who quiets the voices. Well, as long as he's near her. Why? Mary Ann Gray is his total opposite. He's a loner; she has friends. He doesn't care what anyone thinks; she tries to make everyone happy. And while he attracts the paranormal, she repels it. For her sake, he should stay away. But it's too late....

Somehow, they share an inexplicable bond of friendship. A bond about to be tested by a werewolf shape-shifter who wants Mary Ann for his own, and a vampire princess Aden can't resist.

Two romances, both forbidden. Still, the four will enter a dark underworld of intrigue and danger but not everyone will come out alive....

Release: Out Now!

It's happening again...

The BLUE IS FOR NIGHTMARES series that put a spell on more than half a million readers continues – in graphic novel format!

Prophetic dreams. Near-brushes with death. Killers pursuing her and her friends.

Stacey Brown knows that being a hereditary witch isn't all it's cracked up to be.

Stacey's nightmares are back. And all she wants to do is go to Colorado and work things out with Jacob, who hasn't been able to remember her since he lost his memory in his brush with death. But before Stacey and Jacob can have a future, they must face their pasts. Black is for Beginnings reveals the never-before-seen backstory—and what lies ahead—for the young, spellcasting lovers.


Release: Out Now!

As a Chinese adoptee in St. Louis, teenage Daiyu often feels out of place. When an elderly Asian jewelry seller at a street fair shows her a black jade ring—and tells her that "black jade" translates to "Daiyu"—she buys it as a talisman of her heritage. But it's more than that; it's magic. It takes Daiyu through a gateway into a version of St. Louis much like 19th century China. Almost immediately she is recruited as a spy, which means hours of training in manners and niceties and sleight of hand. It also means stealing time to be with handsome Kalen, who is in on the plan. There's only one problem. Once her task is done, she must go back to St. Louis and leave him behind forever. . . .

Release: Out Now!

When Private Matt Duffy wakes up in an army hospital in Iraq, he's honored with a Purple Heart. But he doesn't feel like a hero.

There's a memory that haunts him: an image of a young Iraqi boy as a bullet hits his chest. Matt can't shake the feeling that he was somehow involved in his death. But because of a head injury he sustained just moments after the boy was shot, Matt can't quite put all the pieces together.

Eventually Matt is sent back into combat with his squad—Justin, Wolf, and Charlene—the soldiers who have become his family during his time in Iraq. He just wants to go back to being the soldier he once was. But he sees potential threats everywhere and lives in fear of not being able to pull the trigger when the time comes. In combat there is no black-and-white, and Matt soon discovers that the notion of who is guilty is very complicated indeed.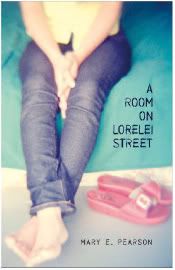 A Room on Lorelei Street by Mary E. Pearson
Release: Out Now!

It is not arms holding you. Not a kiss on the forehead. Not a packed lunch or a remembered birthday. Just a room. But for seventeen-year-old Zoe, struggling to shed the suffocating responsibility of her alcoholic mother and the controlling guilt of her grandmother, a rented room on Lorelei Street is a fierce grab for control of her own future.

But with all odds against her, can a seventeen-year-old who only slings hash to make ends meet make it on her own? Zoe struggles with this worry and the guilt of abandoning her mother as she goes to lengths that even she never dreamed she would in order to keep the room on Lorelei Street.

Now, what books do you crave?If you would like to participate in this meme, just link back to me and leave the link to your post in the comments! You can find the specifics
here
!