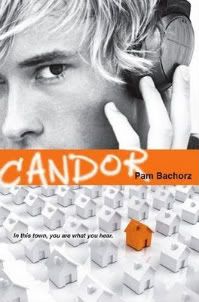 Candor by Pam Bachoz

Release Date: September 22, 2009

Publisher: Egmont USA

Age Group: Young Adult

Candor, Florida is where wealthy families take their children that make trouble. Candor transforms those children into perfect, Yale bound students, and these children always respect their parents, always do their chores, and never get into trouble…Ever.

Campbell Banks built Candor into what it is; he created the technology that makes not just these kids, but also these parents, into what they are. It only takes a week, sometimes two if their strong, to fully make the change from a troubled teen to a Candor kid. That is unless Oscar Banks steps in, if the bank accounts big enough and the kids want out bad enough, he can make it happen.

On the outside, Oscar is the perfect Candor kid, he's his father's clone, but on the inside and to those select few, there's the truth: Oscar knows how to block his father's Messages, he knows how to keep them from turning, how to keep them normal. Then Nia shows up. Nia is different for Oscar, there's something about her that attracts him, that makes him want to forget everything and stop being careful, something about her that makes him want to leave Candor.

There were parts of Candor that I didn't really understand, like how Nia and Oscar could talk to each other briefly, a few times and then be in love with one another. Or like how Oscar's father could never suspect a thing. But despite not buying how quickly their relationship came about, I found that I absolutely adored them! The moments they had were so sweet (like the "museum", read it and you'll understand) and they actually seemed so genuine with one another, like they saw the true parts of each other.

I've been pleasantly surprised this year by how well the writing has been in debut authors, and Candor was no different. It was very well written, and the characters were developed so well, especially for a short novel. The last few chapters were so exciting and engrossing, that even when my body was saying "go to bed," I couldn't put it down.

This was also the first book in a long while to bring a tear to my eye (nothing since The Siren by Kiera Cass has managed to do that). During those last few chapters, I had my ideas on what was going to happen, but when they were proven wrong and it was over, I found a tear in my eye and frantically flipping the acknowledgment pages and the back pages for something else, anything else.

I don't know for sure if there's going to be a sequel, but apparently there are Messages hidden in Candor, because I am hoping to revisit Oscar, Nia, and the town of Candor again.

---------------------------------------------------------------