Created by
The Story Siren
who was inspired by
Alea
.
----------------------------------------------------------------------------
So this week I only recieved three books, but I am quite happy with them. So here's what I got, and just to let you guys know, as I am getting the hang of certain things (like memes), the look and format of them will change. At least until I find what works for me. Thanks!
Soulstice by Simon Holt
(for review) ARC-September 1, 2009
From the back cover:
Six months...
Since Reggie first discovered the existence of the Vours in a tattered journal. Since her little brother, Henry, began to mutilate animals and tunr against her. Since she learned to devour her fear and destroyed a Vour to save Henry.
The Vours still haunt Reggie, but only in her dreams--until one horrifying night, when an unexpected visitor turns her nightmares into reality.
Terrifying, nail-biting, and grossly intriguing, readers will devour this thrilling sequel.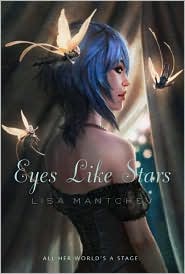 Eyes Like Stars by Lisa Mantchev
(ARC) Courtesy of Lizzie at
The Book Obsession
-Thanks!
From the back cover:
Enter Stage Right
All her world's a stage.
Beatrice Shakespeare Smith is not an actress, yet she lives in a theater.
She is not an orphan, but she has no parents.
She knows every part, but she has no lines of her own.
Until now.
Welcome to the Theater Illuminata, where the characters of every play ever written can be found behind the curtain. They were born to play their parts, and are bound to the Theater by The Book--and ancient and magical tome of scripts. Bertie is not one of them, but they are her family--and she is about to lose them all and the only home she has ever known.
Open Curtain
Deep by Susanna Vance

From the back cover:
Nothing really bad has ever happened to Birdie Sidwell. And she hates it! She yearns for drama, angst-something atrocious to provide fodder for the amazing book she wants to write. When her parents take a trip to the Caribbean, she gets her wish...

Morgan Bera is a child of the seas. Raised by nomadic Norwegian parents who encouraged her to chart her own course, and filled with sorrow after the seas claim one of their own, she attempts to establish a new life for herself in the warm waters of the tropics.

But first Morgan must get "official" papers. And there's only one person who can help her-someone who has an unseen capacity for evil...

So that's what I got this week! What was in your mailbox?

XOXO