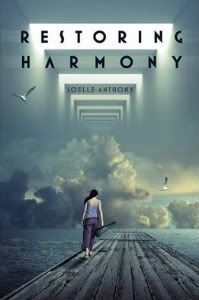 Restoring Harmony by Joëlle Anthony
Release Date: May 13, 2010
Publisher: Putnam Juvenile
Age Group: Young Adult
Overall:
Molly lives in a world very different from the one you and I have come to know. And that is not because she lives it Canada. It's because she lives in 2041 and after the Collapse, which left the entire world in financial peril.
Molly and her family live on a small island, an island that was able to recover quite well after the Collapse, one that's small and quaint; one where family is the most important thing you've got. When the island doctor is killed in a freak accident and Molly's grandmother in the United States is feared to be dead, it's up to the 16-year-old Molly to make back to the U.S., find her ex-doctor grandfather and bring him back to the island before her pregnant mother gives birth.
The way the world is described, I would be terrified! It's a totally different kind of world than we live in today. The economy has totally collapsed, there's no oil, the government is in ruins, and most of the large cities are ran by The Organization (basically, the mob). There's little actual money anymore, the economy is mostly made up of the barter system, and occasionally gold. That is all so very odd to me, but that's also a very different world than the one I live in, and the one you live in.
Technology has of course advanced…A LOT. Like there's CyberSpeak (an advanced version of Skype), most cars that are left are electric, and there's a number of other kind of awesome contraptions that would be totally useful (weightless trailers that can be pulled on a bicycle, anyone?). At times it doesn't really feel like technology is all that advanced because transportation has gone back to trains and bicycles, but the downfall of cars and the like really didn't have anything to do with technology as much as it was because the government had taken over the oil supply.
Armed with only her fiddle, feisty attitude, and a good sense of the land, Molly heads to America. With the help of a few friendly strangers, Molly's adventure takes her right where she needs to be, but can she make it home alive?
There's some really strong characters in Joëlle Anthony's debut novel. I found Molly to be an adoring sort of person; she's smart and relatable in a sense. Spill is that sweet guy with the tough outer shell that I was dying to see more of. Grandpa, while rough at first, had the warmest heart and was absolutely hilarious at times. They were all strong, well developed characters, and I totally adore that.
But I did have a few concerns. Molly has got to be the luckiest character in dystopian literature history! Every predicament she got into, she got out of generally unscathed and in about two seconds, talk about unlikely and after a while, very predictable. The bad guys weren't bad enough. There were plenty of bad guys, but they were either seriously stupid or way too soft, and this should have been a story where the bad guys were really bad. I really wanted more action too. Molly spent so much time doing ordinary, mundane things and I was hoping for more adventure and action in this excitingly, dangerous world.
While it did have its flaws, there were things I thoroughly enjoyed. I love how Molly risks it all, including her life, for the attempt to save her family. I love how caring she is; even towards those she barely knows (i.e. Brandy and Michael). Watching her relationships with those around her grow is also a major treat, and totally refreshing to see, since a lot of what we see are broken families and unhealthy relationships. It was nice and moving to see a different kind of relationship between characters, after a while seeing nothing but dysfunctional people can get tiring.
Despite the setting, I didn't really find Restoring Harmony to be as much a dystopian novel, as I saw it to be more about family and relationships. And that's not completely a bad thing, although I was disappointed since I was expecting something more of a dystopian adventure. At its roots, Restoring Harmony was a fairly enjoyable story, but don't go into it expecting to be shocked and scared by their dystopia.
Plot:
Writing:
Characters:
Ending:
Cover:
---------------------------------------------------------------