This is a weekly* meme, hosted here, that was inspired by Kristi over at
The Story Siren
and Jill over at
Breaking the Spine
, with help from Laina over at
Laina Has Too Much Spare Time
.
----------------------------------------------------------------------------


*All summaries are from Amazon, unless noted otherwise*
*All of these have been released*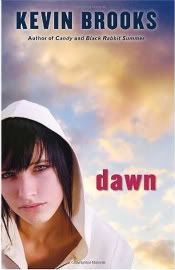 Dawn by Kevin Brooks
Dawn Bundy lives in a cave. In her head. Where's she's been hiding for two years. Hiding behind headphones. From the two hottest girls at school, in their impossibly short skirts and unbearably tight tops, their skin close enough to touch. Not talking to her mother, not about what matters. Not thinking of her dad, the drug addict, the ex-con, born-again but far gone. Two years is a long time. Enough for the cave to grow so small that her breath feels like stone in her throat. Two years is no time at all. Nowhere near enough to forget. To pretend that nothing happened. Deep one perfect morning.
Brace yourself for the battle of the exes....
Hayden and Nick used to be a hot item, but their brief affair ended with a highly publicized breakup. Now the two are "just friends," excluding the occasional flirtation.
When Hayden wins the girls' division of a local snowboarding competition, Nick is unimpressed, claiming that Hayden wouldn't have a chance against a guy. Hayden calls Nick's bluff and challenges him to a head-to-head boarding contest. Their mutual friends quickly take sides, the girls on Hayden's and the boys on Nick's, making for an all-out battle of the sexes. This friendly competition is bound to get heated -- and they might end up igniting some old flames.
Hazel Louise Mull-Dare has a good life, but it's so dull. With an adoring father who grants her every wish, a place in the Kensington School for the Daughters of Gentlemen, and no pressure to excel in anything whatsoever, her future looks primly predictable.
But on the day of the Epsom Derby -- June 4, 1913 -- everything changes. A woman in a dark coat steps in front of the king's horse, in protest at the injustice of denying women the vote. She dies days later, bringing further attention to the suffragist cause. Young Hazel is transfixed. And when her bold new friend Gloria convinces her to take on the cause, Hazel gets her first taste of rebellion.
But doing so leads her into greater trouble than she could have ever imagined. Such great trouble that she is banished from London, all the way to where her family fortune originates -- a sugar plantation in the Caribbean. There Hazel is forced to confront the dark secrets of her family -- secrets that have festered, and a shame that lingers on.
What's worse than being fat your freshman year?
Being fat your sophomore year.

Life used to be so simple for Andrew Zansky–hang with the Model UN guys, avoid gym class, and eat and eat and eat. He's used to not fitting in: into his family, his sports-crazed school, or his size 48 pants.

But not anymore. Andrew just met April, the new girl at school and the instant love of his life! He wants to find a way to win her over, but how? When O. Douglas, the heartthrob quarterback and high-school legend, saves him from getting beaten up by the school bully, Andrew sees his chance to get in with the football squad.

Is it possible to reinvent yourself in the middle of high school? Andrew is willing to try. But he's going to have to make some changes. Fast.

Can a funny fat kid be friends with a football superstar? Can he win over the Girl of his Dreams? Can he find a way to get his mom and dad back together?

How far should you go to be the person you really want to be?

Andrew is about to find out.
Four teenagers, Jena, Skye, Owen, and Dakota, come together and cross paths during a vacation in the Caribbean. A quarter of the book is devoted to each teen's perspective. Jena tells about her feelings of inferiority when around beautiful Skye, the daughter of her mother's best friend. Skye wants to figure out the truth about her father and the suicidal depression that turns her away from auditioning for even one more film. Dakota drinks, is sexually pushy with girls, and deals with his girlfriend's death in a car accident when she was with another guy. Owen, Dakota's younger brother, hides his insecurity behind the safety of his blog and general computer nerdiness. All four lives become "tangled" together while at the resort and after they reach home, and the way the tangles twist and unfold allows these teens to discover their true selves and find personal satisfaction. Mackler expertly creates believable characters, plots, and settings. The teens are good people who have obstacles to overcome and problems to face. Whether realizing it directly or not, they help one another because of their chance relationships.
*I am now making Books I Crave a bi-weekly meme. It takes a lot of work to put it together and I am getting ready to start moving, so I won't have a ton of time for a while, but once I'm moved and settled I will probably go back to doing it weekly.
For more information on Books I Crave and how to join in, click
here
.