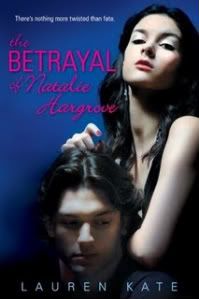 The Betrayal of Natalie Hargrove
by Lauren Kate
Release
: November 12, 2009
Publisher
: Razorbill
Category
: YA-General
Overall
:
There are a few things that Natalie Hargrove wants out of her time at Palmetto High School, but the big one is becoming Palmetto Princess and her boyfriend, Mike, to be Palmetto Prince. And Natalie Hargrove will do anything she has to do to make sure this happens.
When Natalie finds that Mike is at major risk of losing the battle for the crown to the one person Natalie hates, Justin Balmer, we find out just what she will do to make sure that her dreams come true. But what's the cost of fame within the high school setting? And what's that cost when the person she's battling is the one person who has the power to take her down?
Now, when I got this book I hadn't actually read the synopsis about it, all I knew is it was Lauren Kate's debut novel, I loved the cover, and I wanted to read it before I read
Fallen
(out now). But I'm glad. I was totally shocked and surprised at the twists and turns in
The Betrayal of Natalie Hargrove
and I loved it!
It was a shocking and fun ride to take with Natalie, and let's just say the ending shocked me even more. This is a very
Cruel Intentions
(1999 Reese Witherspoon/Ryan Phillippe/Sarah Michelle Gellar movie that was totally awesome, which ironically contained a character with the last name Hargrove) kind of story and that made it even more enjoyable.
The main thing I fault this novel for is that it seemed like some of the characters were just around to move the story along, and then once their job was done you didn't really see them again, or they just got a side mention. But this being a quick read, I can understand why it was like that, so I don't hold that too much against it.
It seems like with all the talk surrounding
Fallen
, that
The Betrayal of Natalie Hargrove
has been lost in the shuffle or will be, but I hope that doesn't happen. I really enjoyed Natalie, Mike, the Bambies, and even JB, and the journey they took me on, and I think other people will too. It's a story of blackmail, desire, darkness, and deeds that are so dark it would make Nyx shiver.
Natalie messed with the Fates' and you just don't mess with the Fates'.
All in all, I say read it. It's good, quick, and a nice escape for a couple of hours. Another plus that I don't think I've mentioned is the fact that it has a totally sexy, dangerous cover, which fits well with what's written on the pages within.
Plot:
Writing:
Characters:
Ending:
Cover:
---------------------------------------------------------------
I received this book as part of
Around the World Tours
.