This is a weekly meme, hosted here, that was inspired by Kristi over at
The Story Siren
and Jill over at
Breaking the Spine
, with help from Laina over at
Laina Has Too Much Spare Time
.
----------------------------------------------------------------------------

*All summaries are from Amazon, unless noted otherwise*


Meridian by Amber Kizer
Release: Out Now!
Half-human, half-angel, Meridian Sozu has a dark responsibility.
Sixteen-year-old Meridian has been surrounded by death ever since she can remember. As a child, insects, mice, and salamanders would burrow into her bedclothes and die. At her elementary school, she was blamed for a classmate's tragic accident. And on her sixteenth birthday, a car crashes in front of her family home—and Meridian's body explodes in pain.
Before she can fully recover, Meridian is told that she's a danger to her family and hustled off to her great-aunt's house in Revelation, Colorado. It's there that she learns that she is a Fenestra—the half-angel, half-human link between the living and the dead. But Meridian and her sworn protector and love, Tens, face great danger from the Aternocti, a band of dark forces who capture vulnerable souls on the brink of death and cause chaos.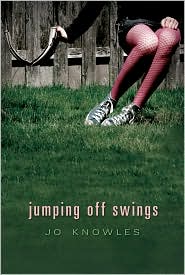 Jumping Off Swings by Jo Knowles
Release: Out Now!
Ellie remembers how the boys kissed her. Touched her. How theybegged for more. And when she gave it to them, she felt loved. For awhile anyway. So when Josh, an eager virgin with a troubled home life, leads her from a party to the backseat of his van, Ellie follows. But their "one-time thing" is far from perfect: Ellie gets pregnant. Josh reacts with shame and heartbreak, while their confidantes, Caleb and Corinne, deal with their own complex swirl of emotions. No matter what Ellie chooses, all four teenagers will be forced to grow up a little faster as a result. Told alternately from each character's point of view, this deeply insightful novel explores the aftershocks of the biggest decision of one fragile girl's life — and the realities of leaving innocence behind.

Release: Out Now!
From Goodreads: Only on the internet can you have so many friends and be so lonely.
Beautiful, wild, funny, and lost, Katie Kampenfelt is taking a year off before college to find her passion. Ambitious in her own way, Katie intends to do more than just smoke weed with her boyfriend, Rory, and work at the bookstore. She plans to seduce Dan, a thirty-two-year-old film professor. Katie chronicles her adventures in an anonymous blog, telling strangers her innermost desires, shames, and thrills. But when Dan stops taking her calls, when her alcoholic father suffers a terrible fall, and when she finds herself drawn into a dangerous new relationship, Katie's fearless narrative begins to crack, and dark pieces of her past emerge.


Girl In The Arena by Lise Haines
Release: October 13, 2009

It's a fight to the death—on live TV—when a gladiator's daughter steps into the arena.
Lyn is a neo-gladiator's daughter, through and through. Her mother has made a career out of marrying into the high-profile world of televised blood sport, and the rules of the Gladiator Sports Association are second nature to their family. Always lend ineffable confidence to the gladiator. Remind him constantly of his victories. And most importantly: Never leave the stadium when your father is dying. The rules help the family survive, but rules—and the GSA—can also turn against you. When a gifted young fighter kills Lyn's seventh father, he also captures Lyn's dowry bracelet, which means she must marry him... For fans of The Hunger Games and Fight Club, Lise Haines' debut novel is a mesmerizing look at a world addicted to violence—a modern world that's disturbingly easy to imagine.

Wondrous Strange by Lesley Livingston
Release: September 22, 2009
From Goodreads: 17 year-old Kelly Winslow doesn't believe in Faeries. Not unless they're the kind that you find in a theatre, spouting Shakespeare—the kind that Kelley so desperately wishes she could be: onstage, under lights, with a pair of sparkly wings strapped to her shoulders. But as the understudy in a two-bit, hopelessly off-off-Broadway production of A Midsummer Night's Dream, wishing is probably the closest she's going to get to becoming a Faerie Queen. At least, that's what shethinks... In this fun, urban fantasy, Kelly's off-stage life suddenly becomes as complicated as one of Shakespeare's plot twists when a nighttime trip to Central Park holds more than meets the mortal eye.



Now, what books do you crave?
If you would like to participate in this meme, just link back to me and leave the link to your post in the comments! You can find the specifics
here
!