Today I hit 50 followers!!!!! *happy dance* I know you're all excited to fins out about the contest, but first things first.
First, I want to thank all my followers!
Second, I want to think all the other bloggers out there that have helped me and answered my questions and everything. You guys have all been amazingly awesome!
Now without further ado, onto to the contest!
In honor of my 50 wonderful followers, I am giving away 2 books! One of which I'm having a hard time letting go of!
This is technically my first official contest! As a lot of you know, I just finished hosting a contest for Michelle Moran, but this one is all me! And I am excited!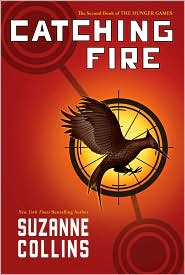 Yes! One winner will recieve both an ARC copy of Catching Fire by Suzanne Collins AND an ARC copy of Soulstice by Simon Holt (which I have read and the review will be up sometime this week)!
To enter:
Just leave a comment with you email address!
Now here is how to get extra points:
+1 For being a new follower
+2 For being an old follower
+1 For being a follower on Twitter (leave Twitter name)
+1 For linking to the contest (On sidebar, Twitter, post, etc. Up to 5.)
Must include link
Open to US only (sorry, I almost broke)
Contest ends September 27th!
Happy entering!