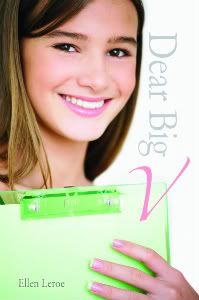 Dear Big V by Ellen W. Leroe
Release Date: September 30, 2009
Publisher: WestSide Books
Age Group: Young Adult
Pages: 200
Overall:
When you look up the definition of "prude" in the dictionary, there are no words to define it, there's only a picture of Courtney Condon. Courtney is the epitome of a good girl, she's modest, and she's the founder of Donuts and Coffee, the schools abstinence club. On top of all of that, she is also the only one in the school that can resist the charms of Lance Lindsey, the most gorgeous guy in school and the school's total player.
Lance is THAT guy, you know the one, we all know the one. He's gorgeous, charming, has a new girl every week, and thinks he can have anyone he wants. He's the kind of guy that you think is so gorgeous, but wouldn't want to even shake hands with without wearing a hazmat suit. But none the less, he is a fairly realistic character, aside from the "when he walks into a room, everybody stares" mentality, that is something that I've never seen happen in all my almost 21 years.
Courtney and Lance are thrown together to do the coveted Op-Ed piece for the school newspaper, and this fact amuses Lance and infuriates Courtney. They have this very Cate and Baze (Life Unexpected, new show on CW) kind of relationship going on and it's pretty hilarious. Now it's time to see what happens when the Queen of the Prudes and King of the Lewds is thrown together, and with the single-mindedly religious mother that Courtney has, anything is bound to happen.
I really wanted to like this book more. Dear Big V is cute and funny, and the author was able to address sex and abstinence without being preachy and clinical. But overall the book left me feeling…meh. I expected more from it, there was quite a bit of different things thrown into the story and instead of giving them all time to develop and finish well, they were all rushed into the last few chapters, which left me feeling unsatisfied.
Courtney is funny and mildly adorable, but then there were moments (mainly in the beginning) where I just couldn't stand her. I found her judgmental and close-minded and I couldn't connect with her, but as she started to grow, I did like her more but I still never fully connected with her. The one character I did adore was Andy, Courtney's best friend, while she stands for her beliefs, she's accepting of other people's thoughts and feelings, plus she's really funny.
One of my biggest issues with Courtney is that after a few kisses and literally only a few very brief conversations with Lance, she was telling her best friend that she thinks she's falling in love with him. I know that in high school and being that age makes you think simple physical attraction can be love without really knowing someone, but that was just a bit much, and very unrealistic. I found it hard to believe that a character like Courtney could confuse love and lust so easily.
Maybe if I was younger and still dealing with the same issues as Courtney, I would have responded better, or maybe with the lack of connection I felt with the characters themselves, I wouldn't have. There's no way to really know. I do think that younger readers could benefit from Courtney's plight; I would love for my niece to read this and maybe save her some heartache later down the road. I think it's a good book for a look on abstinence, it doesn't come of clinical and preachy like most others do, and for that alone, I do think readers will respond better. Maybe others will love Dear Big V, but it just wasn't something I related to.
Plot:
Writing:
Characters:
Ending:
Cover:
---------------------------------------------------------------